So you thought it was safe to dip your toe back in the picture book pool huh?
Well think again, it's almost 2014 and we're back with an almighty flood of wonderful stories.
First up we have a huge idol of mine (not least because of her fabulous head gear)
Sarah 'the scribble' McIntyre
, with her latest picture book triumph
There's a Shark in the Bath!
(Published by Sch
olastic Jan 2014)
Mild peril
at it's very best, we find ourselves in a familiar domestic setting, as dynamic Dulcie a kid with cred, discovers not one... not two.. but a whole family of actual sharks in her bath tub, this comes as something of a surprise but Dulcie takes everything in her stride.
These ferocious toothy sharks are intent on gobbling her up in one bite but She's a gal with a plan and comes up with all manner of
extraordinary
ways to distract the fearsome beasties from mission munch.
A
myriad of kooky ocean critters including an octopus a crab and a hilarious lip stick embellished puffer fish join in the fun and the pages begin to fizz and bubble with the chaos that ensues.
You'll be battling your way through swathes of frothy bubble bath and reams of toilet paper as the frenzy continues. Savvy Dulcie wraps up the crazy game of cat and mouse (almost literally) with a cunning episode of the ever-so popular 'Spick-and-Spanny' game! and just in the nick of time the fearsome sharks make a rapid retreat. But will that be the only surprise guest at Dulcie's house.. I fear not.
There's a Shark in the Bath is an aquatic take on the boy who cried wolf with a modern twist. Sarah has a unique and
unparalleled ability to create picture spreads which quite literally bounce and tumble out of the pages regardless of the boundaries of the pages (something which must come from such a great skill in adapting her work for comic strip formats), completely immersive and utterly engaging. The vibrant pallet and inclusive characterisations all work together perfectly in this winning combination.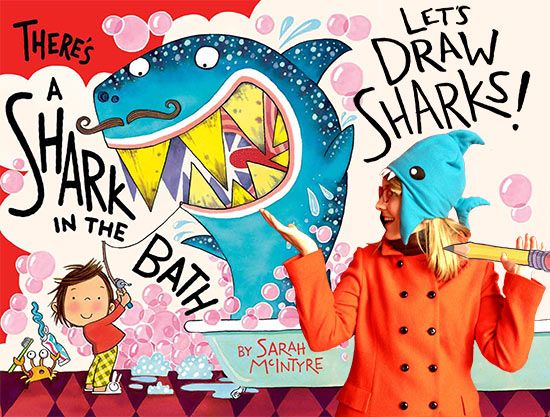 Find FABULOUS Sharky activities HERE
We are utterly thrilled to welcome Sarah to Book Sniffer Towers for a spot of breakfast, here's our interview.
Dulcie is a crazy-cool kid, How would you describe yourself as a child?
I wasn't crazy-cool at all! But I was fascinated by sea life and I wanted to be a mermaid when I grew up. My family used to go on holiday to Canon Beach in Oregon every year and I loved staring into the tide pools, each one a magic little kingdom. And rather less magically, I liked to poke the anemones with a stick to watch them pucker up
.
Do you have a shelf of special things? If so which are your top three faves?
My flat's filled with STUFF. Stuff everywhere. But I think my favourite things are artwork. It's hard to rank them, but I have a lino print of a Southwold beach by Chris Wormell, an original drawing of an ancient fortress by Philip Reeve from his Traction Codex...
and an oil painting my sister made of her friend sitting in a bar with sunlight coming through her beer glass.
Tells us about a detail on one of the pages we should look out for (I love the frog with the lipstick) And which is your favourite spread?
Ha ha! That's my favourite, too. The frog and blowfish really get stuck in with that makeup. They end up looking like drag queens in a car wreck. I also like Colin the crab, who makes an appearance from another book I've done. When I was nearly finished with the book, my husband spotted a page without Colin on it and got worried. ('Where's Colin?!') So I painted him in. I love the page where the sharks make silly wigs and 'taches out of bubbles:
And I'm also proud of the final endpapers, where I'd really got up a good steam for painting those shark dudes. I think I best captured their joyous gaiety on those last pages.
If you came face to face with a shark in a bath tub how would you feel?
Very surprised! But I'm quite practical about these things. I'd probably ring the RSPCA.
Summarise your new book in 5 words
BIG TEETH! BUBBLES! BATHROOM CHAOS!
Do you have a book by your bed at the moment? What is it?
Three books! A wonderful little comic made of collage and photos by Philippa Rice, called We're Out, and I'm just starting The Middle of Nowhere by Geraldine McCaughrean.
And a picture book called Chester by Melanie Watt, that I keep meaning to give to my neighbours because they have a big bossy cat named Chester, just like the one in the book. But I like the book too much to give away, I really need to buy them another copy.
Tell us about your bath time essentials?
I LOVE my bath! It's always been the one place where I can read a book and no one will disturb me. It was the same when I was a kid, but if I took too long, my sister would sometimes go outside to the window, reach through and dump a glass of cold water on my stomach. (We were awfully kind to each other.)
What are you working in now? Will the cereal bowl elephant make an appearance in its own book?
I did think that There's an Elephant in my Cereal would make a great follow-up! But no, I'm working on another picture book with my fabulous editor, Pauliina Malinen-Teodoro and amazing designer, Rebecca Essilifie. Pauliina gave me two words and asked if I could come up with a book themed on those two words. It was a brilliant suggestion, I went away and wrote something and now we're working together to get it ready to illustrate. My picture books are very much a team effort. Even my Oliver and the Seawigs writer, Philip Reeve, had a look over it and gave me some helpful suggestions. I love bouncing ideas off people, that excitement when everyone's in the zone and coming up with hilarious details.
Who should we look out for on Twitter?
Most of my co-authors are on Twitter: Gillian Rogerson - @gillianrogerson - Claire Freedman - @clairefreedman - Philip Reeve - @philipreeve1 and Anne Cottringer - @cantilupe. You can also follow my brilliantly talented studio mates: Gary Northfield - @gnorthfield - Elissa Elwick -@ElissaElwick - and Lauren O'Farrell - @deadlyknitshade. I'm also a big fan of the weekly Phoenix Comic - @phoenixcomicuk.
What would your top three tips be for budding young illustrators?
1. Don't just make pictures, make books. And don't get bogged down in epic long books, make little ones that you can make in a short amount of time, possibly even in a day. There's something so confidence-building about seeing a whole book through from start to finish. You can play around with different kinds of bookbinding. Just having to get the pages in order makes you discover a lot of little things about how books work. …Here's one of the very first books I made, as a kid, called My Fish. I gotta say, the sharks in There's a Shark in the Bath are way more exciting than that goldfish.
2. Set small projects for yourself. The comics community is great for this with its Internet memes. For example, there's Hourly Comics Day (draw a comics panel about your day, every hour you're awake) and 24-Hour Comics Day (make a whole comic book in 24 hours). It could be something as simple as posting a drawing on your blog every day.
3. Set up a blog. It's not just to publicise yourself, it's also good for keeping yourself accountable, so you can see what you've drawn, and what sort of activities you've been getting up to. If you think your life looks boring on your blog, you can go out and do things to make the blog more exciting and then discover that your life is getting more exciting, too.
What's the best piece of advice you've ever been given?
Probably that last thing, to keep a blog. That was from my classmate Ellen Lindner at art college. It makes me feel like my life's a story, that I'm living something exciting. And since I have a terrible memory, it helps me recall what I did last year, even last week. I feel like I'm turning into some sort of cyborg, with half my brain stored on the Internet.
You made it to the dizzying heights of the Roald Dahl Funny Prize judging panel, so tell us a joke!
It's hard to explain puns to kleptomaniacs because they always take things literally.
You can find amazebubbles activity sheets from each of Sarah's books on her brilliant website: www.jabberworks.co.uk - the perfect entertaining
antidote
for the end of the school holidays. CLICK HERE for heaps of Sharky fun!
With HUGE thanks to Sarah & the kind folk at Scholastic! TOOT TOOT