With the Christmas season almost upon us here is a round-up of perfect board books for baby's first Christmas, little gems to ignite a lifetime love of reading and perfect for that very special first stocking.
First up...
'Forever...'
£7.99 small format hardback
Written and illustrated by Emma Dodd
Published by Templar Publishing
Part of an exquisite collection of glorious foiled picture books with a simple rhyming text about mindfulness, friendship and family relationships. Beautifully crafted to be read and enjoyed together featuring a father bear and his adorable bear cub. We cross the sparkling frosted tundra as bear cub discovers that though life's ups and downs a father's love lasts forever.
"When you're scared and feel unsure, you'll find me right beside you. If you're ever feeling lost you know I'll always find you."
See the complete collection here
ABC's
£9.99 board book
Written and illustrated by Charley Harper
Published by Ammo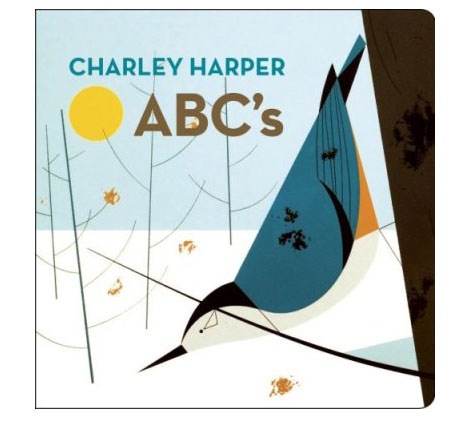 There are numerous ABC books on the market for little ones, but this one stands head and shoulders above the rest simply for the stunning design lead nature of the content.
Beautifully
stylised and filled with all manner of creatures some more recognisable than others but each more utterly beguiling than the last. certainly an essential addition to the home library of appreciators of contemporary design.
The BabyLit Collection
£5.99 board books
a collaboration Alison Oliver and Jennifer Adams
Published by Babylit
A fashionable way to introduce your child to the world of classic literature. Simple themes such as colours and first words are woven through the pages of well known classics including Moby-Dick, A Christmas Carol, Pride and Prejudice and many more ...
You can find the complete range on babylit.com - Completely unique and a splendid way of sharing grown-up favourites with a very young audience.
Counting
£6.99 board book
Illustrated by Ellen Giggenbach
Published by Templar Publishing
Vibrant juicy paper cut style illustrations leap off the pages of this first numbers book. Featuring lots of shiny details to spot and count on each page this engaging first concept book will be a firm favourite.
With a specialism in paper craft Ellen has created a retro chic masterpiece. Also available for older siblings Ellen Giggenbach's My Zoo and My Town - make and do books which enable you to create an entire zoo / town form one books without the aid of glue. Marvellous stuff.
It's a Little Book
£5.99 board book
Written and illustrated by Lane Smith
Published by Macmillan Children's Books
'Is it for chewing? Is it for wearing? Is it for calling? NO ...It's for reading.
A companion title to the best-selling picture book 'It's a Book' which I also highly recommend, this humorous board book explores the various alternative functions of a book according to a toddler, including using it as a hat, a building block and a telephone. The hilarious expression in the characterisation is second to none and it will have both baby and parent laughing out loud. An absolute must for new parents who almost certainly enjoy at some point the real life interpretation of the themes in this story.
Lets hope each and every little one receives a lovely book in their stocking this Christmas! I simply cannot think of a more perfect gift to open imaginations and ignite a life long love of books, reading and sharing.
Post written in association with
You can subscribe to these magazine
here