You will spot some exclusive comic strips by Emer throughout this post which will give you a Pork Scratching flavour of this tittersome curly tale.
What'O Sniffers, I have a slightly different treat for you today, It's a FICTION title, one that is highly illustrated non-the less but something different to add to the mix for your delectation and delight. This particular story is illustrated through
out by the ever so bonkers cool as a cucumber Emer Stamp so here it is.
Introducing ...
The Unbelievable Top
Secret Diary of a Pig
by Emer Stamp
Let me introduce you to

Pig

, A portly young chap chap with delusions of grandeur, Pig is best chums with Duck, and together they both hate Chicken's (who are according to Pig, evil with black beady decidedly evil eyes!
Dear simple

Pig

lives a blissfully happily existence on the farm with a Farmer, who unbeknown to poor old pig is fattening

Pig

up to make some delicious porky products. (Pig see's this lavishment of foody treats as a gesture of pure love)
Pigs

zenlike friend Duck shows him the error of his misguided affections and together they think of a plan to escape the farm before

Pigs

buttocks become bacon.
Unexpectedly the evil beady eyed Chickens are keen to 'help' poor desperate Pig with his predicament and decide to launch

Pig

into space.
As you might expect from a gang of evil chickens construction of their space rocket / tractor hybrid is already well under way - Mission escape is on! (Laika the pig?) Will he make it to outer space or will his short piggy life end in a tragic tractor rocket malfunction?
Think Mr Gum crossed with Charlotte's Web, well seasoned with snort worthy jokes and hilarious illustrations. I am a huge fan of illustrated fiction and it's great to see a new pig on the block to join the likes of iconic favourites Claude, Dixie O'Day and Mortimer Keene (Although I don't think they'll think much of this Pigs flatulence problems)
A beautifully packaged book with slop bucket loads of appeal - this book will be leaping off the shelves into the hands of eager young readers faster than

Pig

can gobble down a bucket of slops.
Bravo Emer.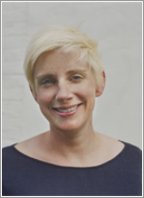 Emer grew up on a farm in Devon and her first ambition was to be a vet.
She is the creative brains behind the John Lewis 2011 Christmas ad, The Long Wait.
She is an over-enthusiastic kick-boxer HA-YA!
Emer works for a top London advertising agency
Diary of a Pig is her first children's book
HIGHLIGHTS:
This book contains farting pigs, evil chickens, gnomes, space rockets and a philosophical duck ... What more can I say to tempt you! Have a read.
5 dazzling porky frazzles out of 5!