As we embark on what will be a year of fabulous World Cup football mayhem there is still a moment to sit down in a comfy chair and enjoy a nice picture book!
We have a premier league picture book here for you and no mistakes, Its the latest eye-boggling creation from delightful chappy and life long Sunderland FC fanatic Mr Simon Bartram. Introducing 'Up for the Cup' A rollocking, tribute to a football team who make it to the cup final against the odds. A brilliant read for slightly older picture book fans with a complex and engaging story which will have you on the edge of your seats cheering our team on from the sidelines. An alphabetti-spaghetti-super-hit
Hitting the bookshelves of a purveyor of high quality books in May 2014 - Grab on while they're hot!
In the meantime while you wait to get your hands on a copy, lets Kick Off with an interview with the books creator Simon Bartram - Enjoy!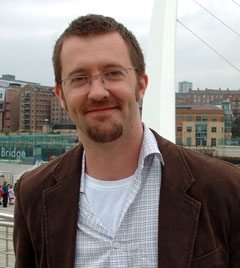 1- Which is your favorite spread from Up for the Cup and why?
My favourite spread is the busy goal celebration. It took an age to paint because I wanted to create a lot of detail to spot. On certain pictures I like to add more and more and more. It's a good job I had a deadline to meet because,otherwise, I would still be working on it now
2- What's your half time pie filling of choice?
In a league table of pies the Meat n Potato would just pip the Chicken and Mushroom to the title. No pies would be relegated .
3- If you could choose your dream team which players would you select?
I would choose a combination of current greats such as Messi and Ronaldo mixed with some of my childhood Sunderland AFC heroes and Roy Race from the classic ' Roy of the Rovers' comic.
4- The characters in this book are extraordinarily expressive - Are there any famous faces hidden in this book for us to look out for?
There are not any famous faces but there are some characters from my other books such as Bob and Barry and a robot called Mr Nigel Carruthers.
Also, I'm in it wearing my Sunderland scarf!
What's been the best piece of advice anyone has ever given you?
Be yourself, work as hard as you can and don't eat your paint.