Fortunately the stars have aligned and two of my MOST favourite picture books publish in May, Orion and the Dark by Emma Yarlett and William and the Missing Masterpiece my Helen Hancocks - I simply can't wait, so to give you a tantalising taste of what's to come Emma and Helen have very kindly agreed to interview each other for the Book Sniffer blog, So whilst I put my feet up with a nice cup of Earl Grey here is the first of two posts...
Where did the idea of Orion stem from (a
childhood fear?) and were you afraid of getting book 2 off the ground?
Weirdly I was never really afraid of the dark that much, it was more my over-active imagination that scared me!
The idea for Orion stemmed from a book I wrote at university called Sidney and his Shadow. This book was eventually developed into two separate ideas, the first being Sidney, Stella and the Moon and the second being Orion and the Dark!
So Orion and his shady friend have been hovering in my mind for a good 3-4 years, so when it finally came round to creating the book I was really ready to get things down onto paper and it came out pretty easily.
I love all the inkyness (textures it creates) and colour palette (I love all this BLUE - my favourite colour) and typography, which bit did you enjoy the most & did you feel the way you worked on this changed in anyway since Sidney,Stella and the moon?
Thank you! Can you tell that I was going through a blue phase? I really enjoy the ideas stage of any project, just sitting and scribbling out a million and one different ideas and combinations whilst listening to the radio and eating a Jaffa cake.
But for Orion, I super enjoyed illustrating the interiors of his house, and also creating any artwork that had 'Dark' in it. He is such a fun character to paint! I really enjoyed doing the secret cover too- I set aside a whole day, and just sat down, hyped myself up and started doodling typography. I think the way I create pictures has developed quite a lot from Sidney, Stella and the Moon. I wanted to create the whole book traditionally, with little to no help from any digital means. This meant that I approached the way I produced artwork rather differently, which I thoroughly enjoyed! As an illustrator I'm eternally trying to push my work forward into new directions (the way I paint, the way I use line, the way I draw characters etc) and to challenge myself- I definitely tried to do that with
Orion!
What inspired you during the creation of Orion? (music, film, person, art, food etc?)
I must admit, I listened to the Tron soundtrack on repeat during this book. It was super helpful when trying to create epic moments!
I was really inspired by a film too Dumbo. It was a real favourite of mine as a child as I have always loved the idea of everything and anything being able to fly.
In particular the scenes at the beginning of the globe in map form inspired me a lot!
Other inspirations were David Ryan Robinson's intricate London scenes,
Brian Wildsmith's beautiful use of colour, mixed media and his incredible sketch scenes from Professor Noah's spaceship,
and of course Jack Hudson's wonderfully electric retro colour palette!
.
How did you decide what form "Dark" would be - did it take long to develop him or was it set in form from the start?
Dark just sort of happened, I've got no idea where he came from. He waltzed into my imagination and soon found his way into my sketchbook. He's had a few minor little things changed on him (at one point he had a teeny bowler hat), but otherwise he remains the chap he always was!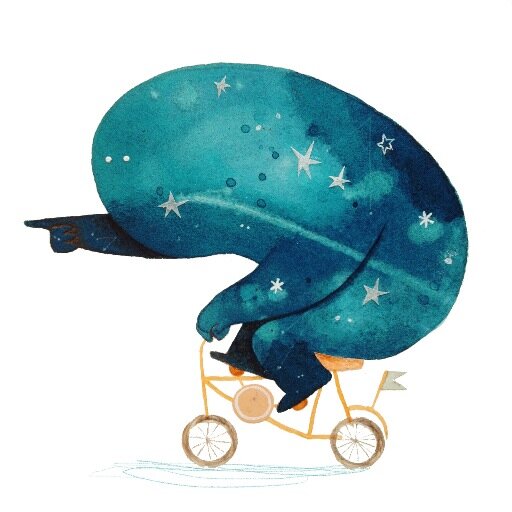 You use a lot of hand written type (which I think is beautiful - the slip cover is something to swoon over) were there any problems or obstacle to overcome with this?
I think I always scare my editor Libby when I ask to do this sort of thing because she has the unenviable task of checking for spelling and grammar…! But I am so grateful to Libby and the Templar team for taking a risk and letting me really go wild with the typography, as a lot of publishers would definitely run a mile!
You have done several books with other people as well as your own, which do do you prefer doing and what's next in the pipeline?
Each definitely has it's pros and cons, collaborative picture books are always a lot more straight forward as the text is more or less set in stone by the time I get a look in. But writing and illustrating picture books is where my heart really is.
It feels great to grow something from a teeny minuscule first fleeting thought through to a final finished tangible book, and to own it the whole way through.
Oooo what's next! I wish I'd asked you that question! I'm working on picture book number 3, which is a step in a whole new direction… There's no night time, no starry skies, no moons (gasp!). It's a completely different genre that is really challenging but super exciting!
I'm also just starting working on a few different other projects including a picture book or two, a novelty book and potentially something else that's marvellously top secret for now! I've also just started designing, writing and curating a magazine for a charity that's very close to my heart.
You can read the Book Sniffer review for
With MANY thanks to Emma and Helen,
Keep an eye out for our second instalment next week where Emma interviews Helen about her book
William and the Missing Masterpiece.
Follow Emma and Helen on Twitter
@helenhancocks and @EmmaYarlett