It is my very great pleasure to introduce you to an incredibly talented new illustrator friend of mine, you may have already heard the buzz surrounding his first book 'The Queens Hat' Published by
Hodder Children's Books
on May 1st, Believe the hype
Steve Antony
is certainly one to keep a keen eye on, This chap really is going places.
REVIEW:

The Queens Hat is a riotous Royal romp through our magnificent capital city. Beautifully unique in its sophisticated and engaging illustrative style this story unfolds page by magnificent page as a chaotic chase ensues.
The Queens men in all their traditional military attire embark en masse on a mission to try frantically to catch The Queens Hat which after an unexpected gust of wind has been blown far far away!
The jolly jaunt leads us UP, around & OVER some wonderfully familiar city sights, My personal favourite spread features the Queen in all her octogenarian glory driving a tube train (I bet they'd run on time if she was in charge)
Each page builds gently in pace as the number of Queens men increases to mind boggling proportions, This visually lends itself to some profoundly memorable illustrations, Including Big Ben with soldiers swarming from top to bottom like tiny ants as they chase the elusive hat.
Steve's masterful use of a subtle and limited palette really make
this particularly bold picture book stand head and shoulders above the crowd and it's also worth mentioning that the illustrations have been reproduced so skillfully that it almost feels as though they were drawn straight onto the pages of the book.
A thoughtfully nostalgic nod to Mary Poppins leads us to a climatic finale where we are lucky enough to meet the very newest member of the Royal family.
The Queens Hat

is a beautifully intimate celebration of family and the role of the grandparent (even if they do happen to be The Queen)
.
I have no doubt that this book will be a huge success and I do hope it gets the real Queens Royal seal of approval.
In the meantime here's the Sniffer 5 golden paw prints.
Steve Antony has been kind enough to join us at Book Sniffer Towers for a very sophisticated celebratory
(Interviews are always best conducted over miniature scones)
If you were lucky enough to be invited to tea with the Queen which top three items would you most like to see on a Royal cake stand?
A chocolate chip cookie dough cheesecake,

White chocolate and raspberry meringue roulade

And eight pumpkin cupcakes iced with cinnamon cream
How did you feel when you first saw a finished copy of this book?
I was half-awake when I stumbled downstairs to answer the door to the postman, but as soon as I realised what was in the package my eyes popped wide open. There I was holding 'The Queen's Hat', and it had my name on it! Hodder had turned my story into this really cool and really tangible object! I think I spent most of the day re-reading it to myself. I still can't quite believe it. I feel super lucky. It felt amazing, and it still does.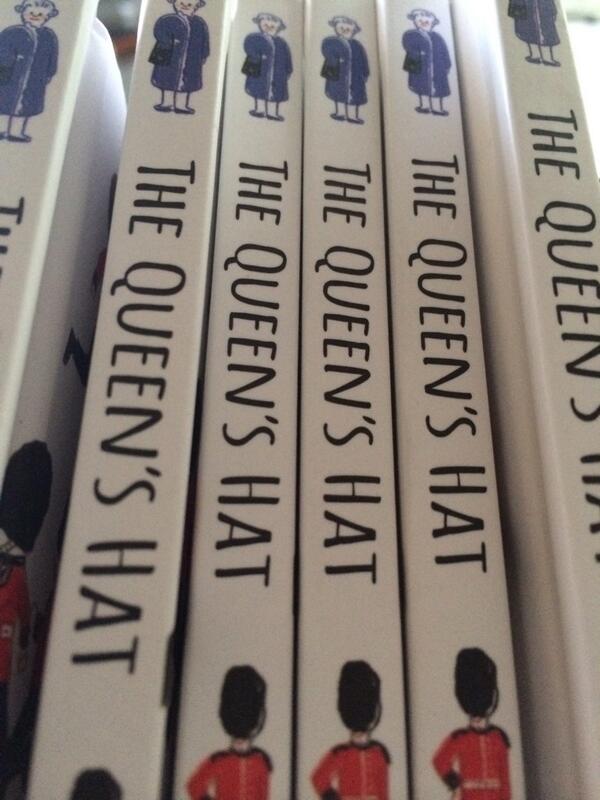 Where did you first find the inspiration for this story?
I saw a news article that had a photo of the Queen holding on to her hat on a windy day. It all stemmed from there really, because that evening I had a rush of inspiration. Within a couple of hours, I had a very rough story board for

'The Queen's Hat'

.
Lots of my picture book ideas are inspired by an image or a phrase that I've stumbled across, and the idea of the Queen chasing her hat around London seemed like such a fun book to pursue. It all pieced together quite well, and I loved creating a really British book with strong visuals and humorous details. Also, although I was born in England, I spent my childhood in the middle of a hot New Mexican desert, so I tapped into a certain kind of nostalgia when creating this book. I remembered how much I fantasised and romanticised about returning home, so part of me wanted to create a book for old times sake, if that makes sense.
What was the best piece of advice you were given at Art College?
Don't do something just because you can. Pam Smy, an illustrator and course tutor who worked very closely with our class, said that - and it stuck. It made me realise the importance of carefully considering what to include in an illustration or a story; and more importantly, what not to include.
Tell us about your creative process?
Inspiration can strike when I least expect it, so I try to remember to always have a pencil on me. I often don't though. Once I finger-drew a character idea in the condensation on my car window and took a photo of it with my phone. I normally start with a character, a phrase or a concept. I do a lot of sketching, until my little seed of an idea starts to germinate. If I get a good feeling about the idea, I'll pursue it. Sometimes I'm unsure whether I've got a good idea or not, and I'll say out loud to nobody in the room, "Is this a good idea?!", and I'll wait for a light to flicker or something, which hardly ever happens. So I plod along until I start to form a narrative. I form a narrative visually by creating mini storyboards in my sketchbook. It's like writing really messily, until eventually the letters start to become clearer. At this point the words and pictures are normally developed simultaneously. Once I feel like I've got a solid story, I'll start the proper drawings. I then scan the black and white pencil drawings into Photoshop, and that's when I inject the colour. Layer upon layer, page by page, the book comes together, until eventually I have a rough dummy in a PDF format accompanied by one or two final drawings to show my publisher. Then I wait. And while I'm waiting, I'll start on another idea just incase the other one actually wasn't that good after all.
What can you see out of your studio window?
A blooming cherry blossom tree, a sand box on the corner of the road, and my car parked on the roadside. There's normally a guy that walks his big yellow dog twice a day, but he's not there right now, and, more recently, I keep seeing a blackbird, but she's not there either.
What one piece of advice would you pass on to up and coming new illustrators?
A while ago, someone asked me 'what I do'. When I answered her question, she responded, "I'd like to do children's books too." There are probably thousands of people just like her, and I do wonder if it's only the ones that really, really want it really badly (and keep on trying and studying and working and trying some more) that eventually achieve their goals. I know it's tough, but sometimes things can fall into place when you least expect it. I've had my moments of desperation, and I still sometimes doubt myself, but I never stop drawing.
If you could ask the queen one question what would you ask?
Hmm. That's tough because I feel like I should have a really important and profound question. So how about, "Did you find the butler?"
Can you give us a rough estimation as to HOW MANY soldiers you had to draw for this book??
But maybe I should have a contest like the ones where you have to guess how many marbles are in the jar, but then that would mean I'd have to count all the guards to begin with, so maybe not. My guess would be 623.
Which is your favourite spread and why?
The London Zoo spread. That was the last spread I did. I was dreading it. All those animals and all those guards, and then there was the giraffe. First of all, I had to be sure that I only included animals that actually are in London Zoo, which ruled out an elephant, and that was a shame, because I really wanted to draw a big stomping elephant. I spent ages trying to get the animals looking just right, and it was the most rewarding experience to see it all come together. I had fun adding details to this page too. My favourite animal on there is the hard-to-see chameleon.
Which is your favourite tourist spot in London?
I love the buzz of London. It's kind of hard to pick just one place. I have a really good memory of hanging out with some friends at the Palace Gardens several summers ago. It was the first time I had been there. I hadn't realised just how many different types of birds were there. We even saw a black swan. I think that's the only place I've ever seen one. The London Eye is still on my bucket list, and I do enjoy the shopping (mostly window), especially at Christmas. I feel lucky to live only a train ride away.
What are your top three tools of the trade?
Paper, pencil and perseverance.
Pre-order The Queens Hat Now
Although I was born in England
, I spent much of my growing-up years in a city in New Mexico called Alamogordo. I was the kid with the British accent that liked to draw. Sadly, most of my drawings and stories were lost during my move back to England in the '90s. I went on to study art, and graduated with an HND in Illustration from Swindon College. Several years later, I was made redundant from a call centre day job, which afforded me the opportunity to apply for a place on the MA Children's Book Illustration at Anglia Ruskin. I graduated in 2013. Currently, I am working on future publications in my little Swindon studio. I am represented by
Elizabeth Roy
. To keep up to date with future releases and events, you can follow my blog and/or follow me on
Facebook
and
Twitter
.
Follow Steve on Twitter @MrSteveAntony