Frann Preston Gannon is certainly proving herself to be the hot new illustrator on the block, recently signing with the CatBird agency founded by our good friend Agent K she is once again setting the picture book world alight with her latest illustrated offering.
Dozing peacefully on the shelves of a book
shop near you from the 16th October!
A delightfully dumpy and stupendously sedentary Sloth finds himself a long way from home (the zoo) when he is 'adopted' by a group of eager children who take it upon themselves to find out where he came from.
After much speculation about the origin of the sloth including the thought that he may even be a pirate returning from an adventure on the high seas the children discover that he is in fact from the rainforest (cleverly deduced by the smallest child).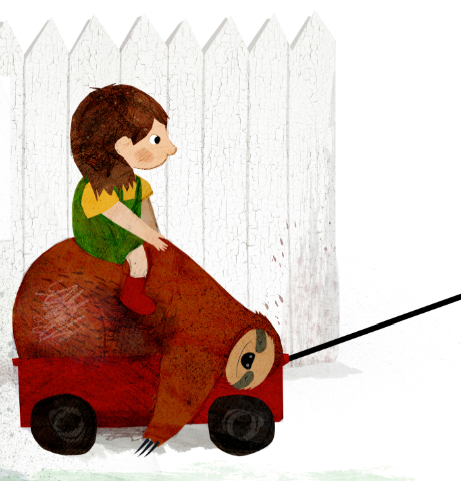 A page of Sloth facts integrated into the story beautifully highlights a subtle message about wildlife conservation.
This book will delight readers of all ages, it's a book with carefully considered characterisation, an abundance of cuteness and a big spoonful of hope and heart. Congratulations Frann - We can't wait to see what you come up with next!
IF YOU LIKE YOU'LL LOVE...

Sloth Slept On has delightfully reminiscent echoes of one of my all time favorite picture books (also by Frann) 'The Journey Home' which I hope you will enjoy as much as I did.